High Intensity Cooking Equipment
Joze cooking style brings the whole world home, so bring home some stylin' Joze gear: the fastest, most flexible, finest cooking accoutrements available.

$110 Cast Iron Wok Stove Price Drop!
Hundreds of millions of cooks can't be wrong.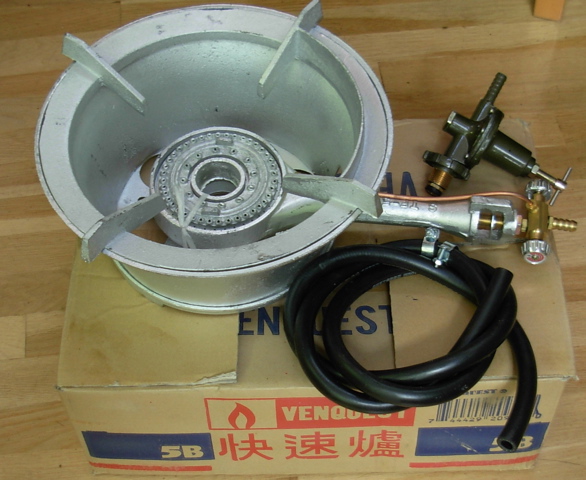 Did you ever wonder how they manage to feed all those billions of people in the Far East?
Any wok is only as good as its heat source, no pan is an island,
No wonder so many people turned away from woks after a surge of interest in the early 70's.
The flash and sizzle when your ingredients first hit that hot pan
Turned into a piffle of boiling juices from too much food and too little heat.
This stove is not a toy. Fully cranked up, this stove will put out about 100,000 BTU's, (See note at bottom of page.)
About as much as all the burners and the oven/broiler of your home stove combined.
It has all the roar and fire of the kerosene burners you see in Asia without the mess and smell.
With this much heat at your command,
Many cooking techniques that are difficult to perform at home become quite easy... anywhere.
And some procedures that just seem like too much trouble suddenly just aren't.
This stove comes with a fully adjustable regulator that connects just like a gas BBQ to refillable propane tanks.
Round or flat bottom woks fit securely and safely into the sturdy cast iron supports. This stove is actually strong enough to fire the 30 inch woks India Joze Restaurant regularly used.
The new automatic ignition stove is every bit as rugged as the pilot light model. Former auto ignition stoves I tried lacked the adjustable regulator and were generally more flimsy. This stove rocks the wok.
Many other uses: Cauldrons for huge soups, beer making or outdoor baths can be accomodated.Will fire a 20 gallon pot of water to boiling in about 10 minutes as opposed to almost an hour on a commercial range. Great for large scale camping events. Instant charcoal starter: Just pile the burner high with charcoal and light. Fully useable coals in about 5 minutes. Wood fired oven or tandoor oven a little sluggish? Stick this inside for a while.
I use UPS or the Post Office to ship these. For overseas customers, the Post Office Priority mail is much cheaper. To calculate shipping, go to the appropriate website and price a package 13 inches by 8 inches by 19 1/2 inches, gross weight 20 pounds, shipped from 95060 California. Typically, shipping to NY, Fl or the Midwest runs about $35, West Coast about $20. Overseas is much more trouble and expense: Europe (and Hawaii) is about $100 (and up.)
Note: the stoves require the (included) high pressure regulator. Our propane burners will not work on natural gas or low pressure propane.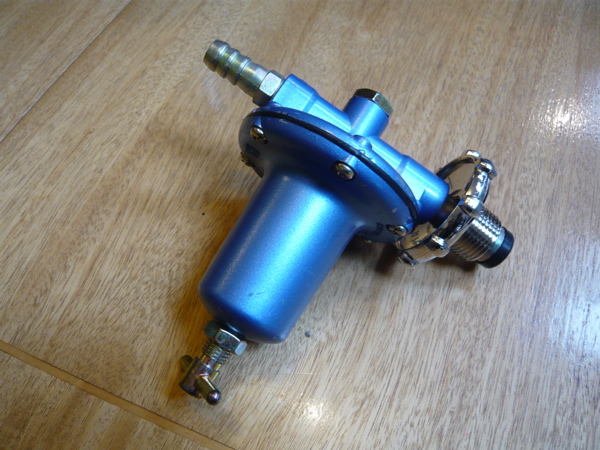 Frequently Asked Questions
Burner Outputs, Seasoning Woks, Stove Installations, More
Home